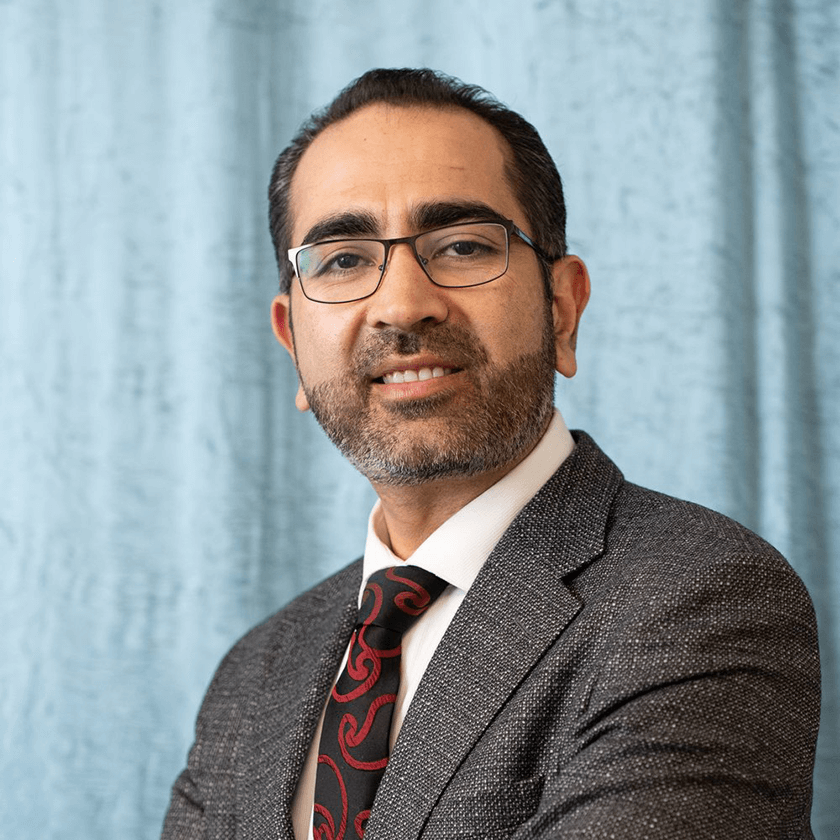 Dr. Raj Singh is the head physician at HEALOR Primary Care and serves as medical director at its sister practice, Seven Heart MedSpa, both located in the bustling city of Las Vegas, NV. With many years of hands-on experience in the fields of internal medicine and nephrology, Dr. Singh continually exhibits a dedication to serving others and providing individuals with the highest quality medical care possible. His devotion to helping people achieve a healthy lifestyle is shown in every interaction he has with his clients, and he believes that having access to effective healthcare can dramatically impact one's life for the better. At his practice, Dr. Singh takes a holistic approach to medicine and offers treatments that encourage patients' natural healing ability because he has seen firsthand the wonders our bodies are capable of.
Aside from his work at HEALOR Primary Care and Seven Heart MedSpa, Dr. Singh also serves as an assistant professor at the University of Las Vegas School of Medicine and an adjunct assistant professor at the Touro University of Nevada.
Born and raised in the Punjab province of northern India, Dr. Singh moved to the United States to pursue advanced medical degrees and second-to-none training at the University School of Medicine in Las Vegas, NV. During his residency and internship, he found common ground and made connections with the physicians and scholars at the Kidney Specialists of South Nevada, which encouraged his interest in nephrology (the study of kidney function). He then went on to attend a nephrology fellowship at the University of Kansas where he acquired a wide range of skills and was able to further hone his precise medical talents.
Specialties and Expertise
At HEALOR Primary Care, Dr. Singh acts as a leader in his field by discovering new and innovative ways to effectively diagnose and treat a range of conditions, never limiting himself to traditional techniques. His approach to medicine involves treating existing conditions and focusing on prevention through anti-aging, overall wellness, hormone management, and therapy for sexual dysfunction. Issues that concern ordinary people in everyday lives motivate Dr. Singh to design advanced treatments to help individuals achieve a better quality of life. He is also proud to have the opportunity to help transgender patients transition peacefully into the lives they wish for themselves by offering HRT and helping them remain healthy as their body changes.
SOCIETIES and ACCOMPLISHMENTS
With board certifications in internal medicine and nephrology, Dr. Singh chairs the Pharmacy and Therapeutics Committee of the University Medical Center in Las Vegas, NV. He has presented many research papers at the American College of Physicians (ACP) chapter events and is an active participant with the Volunteers in Medicine of Southern Nevada.
In 2019, Las Vegas Magazine added Dr. Singh to their list of Top 100 Doctors, acknowledging his outstanding medical performance and accomplishments. His achievements include recognition as a Fellow of the American Society of Nephrology (FASN), earning the EKG Excellence Award, and obtaining the Thumbs-Up Award from the University of Nevada's School of Medicine. He has also been recognized by the mobile app Health Tap as the top nephrologist in Nevada.
When he's not in the office, Dr. Singh participates in a range of activities to help keep his body and mind healthy. He is a certified scuba diver and enjoys ballroom dancing and visiting museums in his downtime. He also likes to ride horses at his friend's ranch home when time allows, as he finds this a relaxing activity. Throughout his career, Dr. Singh has shown a commitment to helping adults of all ages and financial standings acquire high-quality, affordable medical care. He has a strong belief that all individuals should be able to receive the medical attention they require, which is why his office offers accessible medical financing to those who are uninsured and sees patients on Medicaid.
Reviews
"The staff was friendly funny and sweet. The office was very clean!. Dr. Singh was professional, knowledgeable and actually took time to listen to my issues. He did not rush the appointment and did not just write a prescription to get me out. He took time to listen to my goals and help with what I went in for."
B.M.
Google
"I must admit when I walked I was a bit skeptical because they do a lot in this office but this was the best experience I've ever had with a doctor. He is wonderful and wants to assess your every concern! His staff is warm and attentive and they smile! I am new to Vegas but I have found my primary care home!!!! Thank you team for making me feel better already"
M.D.
Google
"Dr. Singh is the greatest doctor! He has a very sincere caring heart when it comes to his patients! He takes the time to listen to his patients medical needs and treatments. Dr. Singh is a doctor I or anyone can trust and depend on when a situation needs to be addressed or resolved in an understanding and a professional manner. Thank you Dr. Singh for being such an "awesome" doctor!"
I.G.
Google
"Truely caring Doctor and front office staff. They are always available to help with everything needed. Definetly recommend this Dr."
Y.C.
Google
"Love this doctor and staff, very friendly, straight to the point and has helped my initial health concerns. Dr singh listens, cares, and helps diagnose as quickly as possible while still being thorough. Not much more I could ask for!"
R.U.
Google
Related Posts