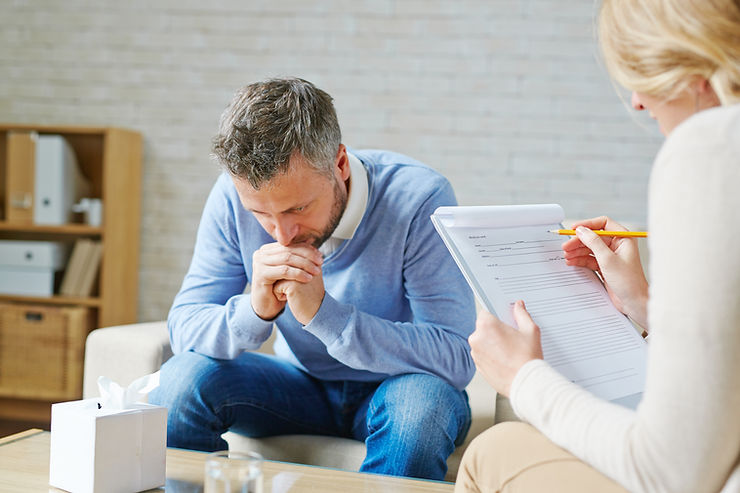 Is there a relationship between depression and sexual dysfunction?
Sexual dysfunction refers to a problem with the normal sexual response. It affects men and women by jeopardizing their chance of having a satisfying sexual experience. At HEALOR™, double board-certified physician Dr. Raj Singh specializes in treatment for sexual dysfunction depression. During a consultation, he will learn about patients' concerns and provide his professional opinion on which treatments will help treat erectile dysfunction or female sexual dysfunction in Las Vegas, NV.
Table of Contents
What is sexual dysfunction?
At HEALOR™, Dr. Singh has learned that symptoms of sexual dysfunction can vary. They include:
Low sexual desire: This includes low interest or total lack of sexual interest.
Orgasmic disorder: This means someone has a hard time achieving orgasm.
Sexual arousal disorder: While the desire for sex is intact, a patient may have trouble being aroused or is unable to stay aroused; this includes premature ejaculation.
Sexual pain disorder: A person experiences pain during stimulation and/or penetration.
Sexual dysfunction causes
When you visit our Las Vegas, NV office, Dr. Singh will try to determine the cause of your sexual dysfunction. Some of the most common causes of sexual dysfunction in men and women include:
Depression
Diabetes
Cardiovascular disease
High blood pressure
Cancer
Hormonal imbalance
Alcoholism or drug abuse
Neurological disorder
Kidney failure
Some medications, including blood pressure medications, antihistamines, and antidepressants, can affect normal sexual functioning.
What is depression?
Depression is a mood disorder that can affect how you feel, think, and live daily life. To be diagnosed with depression in Las Vegas, NV, you must exhibit some of the following symptoms for at least two weeks:
Sad mood
Hopelessness
Irritability
Loss of interest in hobbies
Fatigue
Difficulty concentrating
Difficulty sleeping or oversleeping
Appetite changes
Thoughts of death or suicide
Muscle aches
Headaches
Digestive issues
Not everyone who is depressed will experience every symptom. Some men and women in Las Vegas, NV experience only a few symptoms, while others can experience many. At HEALOR™, Dr. Singh can diagnose if you have depression and determine if it's the cause of your sexual dysfunction. When depression disrupts the chemicals in the brain that affect desire, it can negatively impact sexual activity.
Sexual dysfunction treatment
Most cases of sexual dysfunction can be treated by determining the physical or psychological problem causing it. Once this is established, Dr. Singh helps to resolve sexual dysfunction.
Some sexual dysfunction treatment options include:
Therapy: If Dr. Singh suspects dysfunction is caused by a psychological issue, he may recommend therapy to address sexual trauma or other things causing it.
Medication: Men and women with hormone deficiencies may benefit from hormone pills, creams, or even a shot. For men, drugs, such as Viagra®, Cialis®, Stendra®, or Levitra®, can help improve sexual function and increase blood flow to the penis.
Learn more about treating sexual dysfunction caused by depression in Las Vegas, NV
At HEALOR™, Dr. Raj Singh treats male and female sexual dysfunction in Las Vegas, NV. After a physical exam and medical history, he works hard to determine the cause of each patient's sexual dysfunction. He offers different sexual dysfunction treatments to help you enjoy sexual activity again. To learn more about sexual dysfunction treatment, call our Las Vegas, NV, office to schedule an appointment.